Xtreme Power E91 Series Unity Power Factor 3-Phase UPS
Available in 10kVA/10kW, 15kVA/15kW, 20kVA/20kW, 30kVA/30kW, and 40kVA/40kW configuations
208/120VAC Three-Phase Online UPS
Unity power factor three-phase UPS for Edge facilities and IT applications
Additional Runtime Battery Packs and Power Distribution Units Available
Startup 5×8 an 1-year on-site warranty available
Product Information
Unity power factor three-phase UPS for Edge facilities and other critical IT applications
E91 UPS provides reliable three phase double conversion power for edge facilities, small data centers, network closets, and industrial applications.
E91 features unity output power factor to support up to 25% more critical loads than typical UPSs.
E91's touch screen LCD allows vital monitoring with interactive power one-line, alarms and UPS status.
External battery packs are available for longer runtimes.
PRODUCT SNAPSHOT
Available models: 10kW, 15kW, 20kW
Unity power factor
Approvals: UL, cUL, FCC, Energy Star 2.0
2 years electronics, 2 years battery warranty (USA and Canada)
FEATURES
Touch LCD Display—4.3" touch display provides vital information including status and alarms
High Overload Capability — E91 provides protection during momentary overloads
Unity output power factor —E91 systems provide more real capacity for high density loads
Energy Star — 10, 15, and 20kW Models meet Energy Star 2.0
Parallel Operation — up two three UPS can be operated in parallel.
Frequency converter — lock output at 50Hz/60Hz
Efficient Operation— operation at up to 94% in double conversion mode or 98% in ECO mode
Dual or single inputs —E91 includes separate rectifier and bypass inputs. Input jumpers are pre installed.
Maintenance bypass— manually transfer critical loads from UPS power to utility power, enabling E91 maintenance
MODEL SELECTION GUIDE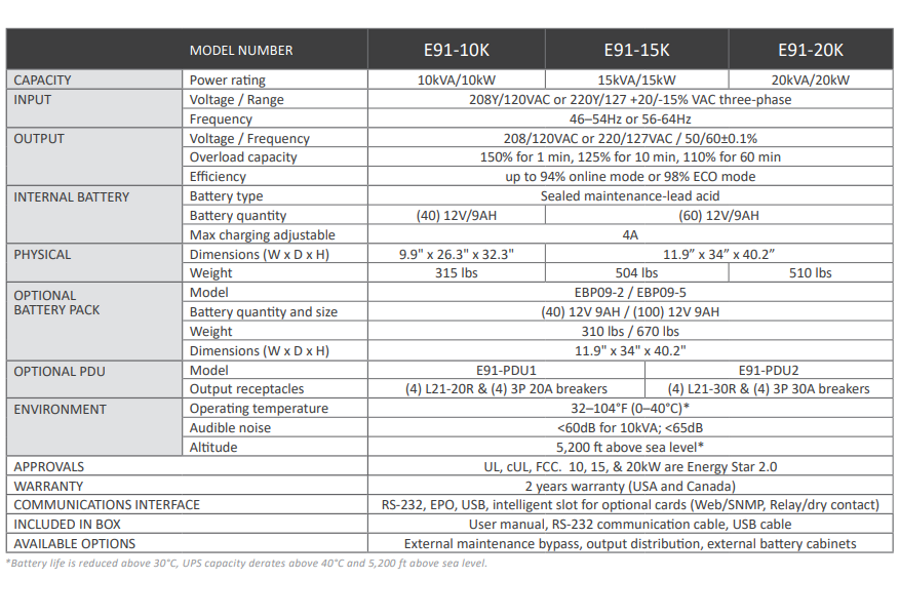 BATTERY RUN TIMES