The new Kordz PRS3 AOC HDMI cable supports UltraHD 4K, HDR and high-frame rates to work with the latest video technologies.
The Kordz PRS3 AOC HDMI cable is designed for custom installation with features such as its 3kg grip, along with its 15kg pull strength.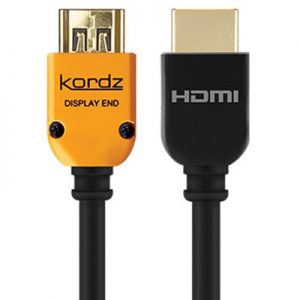 Robert Archer · August 24, 2018
Exhibiting in booth #2327 with Future Ready Solutions during the CEDIA Expo 2018 show in San Diego, the Kordz PRS3 AOC HDMI Cable will make its debut with the American custom installation market.
Kordz says that its upcoming HDMI cable is engineered to provide long-term reliability, and its light, thin and flexible construction allows for its use in a range of installations.
The cables support UltraHD 4K, along with high dynamic range (HDR) and high-frame rates for turnkey compatibility with the latest video formats.
"Our commitment to 'Connectivity Assured' is clearly evidenced by the PRS3 AOC HDMI," says James Chen, managing director, Kordz.
"With this cable, we wanted to simplify one-time HDMI installations and provide a high-quality solution that delivers on both performance and affordability, with no sacrifices made to material and quality control," says Chen.
"HDMI cabling is a vital component in AV installs, and we are committed to ensuring that every product delivers on the high standards that integrators and end users have come to expect from Kordz.
"We'd like to invite CEDIA attendees to come along to the Kordz stand where visitors will be able to get hands-on with our entire range of products and learn what we have to offer," Chen continues.
Kordz HDMI Cable Built With Integrators in Mind
Built for the rugged demands of electronics professionals, the new Kordz PRS3 AOC HDMI cable incorporates a 3kg grip that helps to ensure the product is handled only once.
Kordz says the grip and design of the PRS3 AOC help to prevent the cable from slipping out from the back of A/V receivers, televisions, projectors, and source components such as streaming devices and cable/satellite set-top boxes (STBs).
The PRS3 AOC is a passive product that does not require power, unlike an extender or other HDMI connectivity products. It also features a Kevlar-reinforced internal construction to reinforce its build strength.
The cable's headshell allows for a shallow mounting depth behind components, and its 15kg pull strength enables integrators to safely pull the cable through conduit and walls.
Related: What the Heck is a 'Weak HDMI Signal'?
Available in lengths ranging from 10 meters to 30 meters, the PRS3 AOC HDMI cable delivers 18Gbps throughput and is HDMI 2.0 certified by DPL Laboratories to validate its performance claims.
The cable is available in fire rated CMP plenum and LSZH (Low Smoke Zero Halogen) versions to comply with fire safety specs across the globe.
Kordz PRS3 AOC HDMI Cable specifications:
HDMI 2.0 certified by DPL Laboratories.
Delivers 18Gbps throughput to support UltraHD 4K, HDR, and high-frame rates.
The PRS3 AOC cable incorporates a 3kg grip and 15kg of pull strength.
Kordz says the PRS3 AOC employs a passive design.
Available in fire rated plenum and LSZH versions.
---